About the Department
The Department of Sociology started in the session 2014-15 initially offering Sociology as a General Subject to students pursuing B.A. Honours Courses in various other disciplines at Government General Degree College, Singur. Soon in the following Session of 2015-2016 the Department started offering Sociology as an Honours subject after seeking necessary affiliation to the University of Burdwan.
Sociology PO PSO CO
Seminar Report Sociology
Student's Survey Report
Number of Faculties : 3 (Three)
Intake Capacity : 41 (Forty-one)
Faculty Directory
Achievements
The students participated in a Seminar and a Poster Presentation organized by St. Xavier's College, Burdwan on the topic "Social Relations in a Global Society" and grabbed the third position among all the contestants of the participating colleges.The faculties and students organized a Day-Long State-Level Seminar in the Department of Sociology on the topic: "Sociology Today: Interrogating Relevance of the Topic in Contemporary Society". The students also prepared a departmental wall magazine titled: "Samaj-Darpan" Vol:1.
Other activities
The students of the department also participated in a Three-day Workshop and camp on Field Survey jointly organized by Boys Scouts of Bengal and GGDC, Singur conducted by the Department of Sociology and Anthropology
Objectives of doing Dissertation
In the dissertation, students learn to write and submit a paper usually based on field data. This is the platform where students finally get the opportunity to apply Research Methodology and statistical lessons they have learned so far. This paper is designed in a way to make them understand how they can not only identify a social issue but also study them critically and analyze them in order to create effective implications for formulation of social policies. They are also guided to develop a deep sense of observation that turns out as an effective tool for gathering data from society. Doing dissertation not only makes them practically learn how to make use of these social scientific research methods but also prepares them to undertake future research works.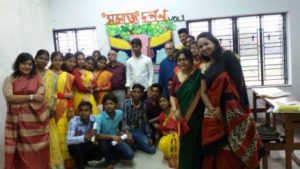 Attainment of PO and CO